«Adiós, Facebook, es hora de algo nuevo»: Wikipedia anuncia una red social propia y libre de publicidad
Jimmy Wales, fundador de la enciclopedia en línea, explica que su idea es «transferir los principios de Wikipedia a una red social».
El fundador de Wikipedia, Jimmy Wales, anunció la creación de una nueva red social basada en un modelo diferente al de Facebook y otras plataformas similares, pues se financiará a través de donaciones y estará libre de publicidad.
«Adiós, Facebook, es hora de algo nuevo», declaró Wales en la feria Digital X, celebrada en Colonia (Alemania), al anunciar la red WT:Social, que aún se encuentra en fase de desarrollo.
«¿Te imaginas una red social donde toda la comunidad pueda editar los contenidos?», preguntó Wales a la audiencia. Y de seguidas explicó que su idea es «transferir los principios de Wikipedia a una red social«.
That is very kind of you to say… see you on https://wt.social https://twitter.com/Brandsensations/status/1189492606683766784 …WT:SocialNews focused social networkwt.socialFrancois Benner@BrandsensationsToday's most inspirational presentation is from @jimmy_wales, founder of @Wikipedia.#DigitalX469:21 – 30 oct. 2019Información y privacidad de Twitter Ads40 personas están hablando de esto
El ejecutivo prometió además que los usuarios que se registren en la plataforma en la primera etapa recibirán de él una solicitud de amistad, que enviará personalmente, recogen medios alemanes.
«Nunca venderemos sus datos»
En su página web, WT:Social remarca que otras redes sociales, a medida que crecieron, «también amplificaron las voces de los malos actores en todo el mundo», al tiempo que sus algoritmos solo se han preocupado «por mantener a las personas en adicción a plataformas sin contenido».
En contrapartida, asegura que su proyecto busca ser diferente y que «nunca» venderá los datos de sus usuarios, pues sobrevive «gracias a la generosidad de donantes individuales, para garantizar que la privacidad esté protegida y que su espacio social esté libre de publicidad».
«Lo autorizaremos [a cada usuario] a tomar sus propias decisiones sobre el contenido que recibe y a editar directamente los titulares engañosos o marcar publicaciones problemáticas», promete WT:Social.
Si te ha gustado, ¡compártelo con tus amigos!
Cepal confirma sombrío panorama económico para América Latina
Comerciantes de Ciudad del Este esperan medidas que ayuden a mejorar la competitividad con respecto a las ciudades fronterizas con Brasil.FOTO:GUSTAVO GALEANO
Santiago, Chile | AFP | por Giovanna FLEITAS
América Latina crecerá apenas 0,1% durante 2019 y el próximo año lo hará 1,3%, completando su peor racha de expansión económica en siete décadas, en un escenario de «desaceleración generalizada» a nivel regional, dijo este jueves la Cepal.
El informe de la Comisión Económica para América Latina y el Caribe (Cepal) destacó el contexto «particularmente complejo» de la región y redujo levemente también la proyección de expansión para el próximo año a 1,3% desde un 1,4% previsto en noviembre.
«Veintitrés de 33 países de América Latina y el Caribe (18 de 20 en América Latina) presentarán una desaceleración de su crecimiento durante 2019, mientras que 14 naciones anotarán una expansión de 1% o menos al finalizar el año», señaló la Cepal, un organismo técnico de las Naciones Unidas con sede en Santiago.
Las proyecciones de crecimiento para 2020 se mantendrán bajas, en torno al 1,3% para la región en su conjunto, señala la #CEPAL en su #BalancePreliminar de las Economías de América Latina, dado a conocer hoy en #Santiago de #Chile.
La región acusa el golpe de una «desaceleración en la demanda interna», que se acompaña por una baja demanda agregada externa y mercados financieros internacionales «más frágiles», a lo que se suman «las crecientes demandas sociales y las presiones por reducir la desigualdad y aumentar la inclusión social», como el caso de las protestas sociales que emergieron en países como Chile y Colombia.
La zona más afectada es América del Sur, que «entra de nuevo a una tasa negativa» de crecimiento, según alertó Alicia Bárcena, secretaria Ejecutiva de Cepal, en alusión a la contracción de 0,1% que registrará la subregión este año, arrastrada por Venezuela (-25,5%) y Argentina (-3%).
En tanto, Brasil, la mayor economía regional, registraría una tibia expansión de 1%, mientras que Chile crecerá apenas 0,8%, afectado por la crisis social que comenzó a mediados de octubre, minando las actividades del comercio y los servicios.
América Central y México crecerán por su parte apenas 0,5% este año, con el gigante norteamericano con nula variación, en una región donde Nicaragua firmará una contracción de 5,3%.
Bárcena resaltó que el panorama macroeconómico de los últimos años propició una «disminución del producto interno bruto (PIB) per cápita, una caída de la inversión, una baja en el consumo per cápita, menores exportaciones y un sostenido deterioro en la calidad del empleo».
En este escenario, el PIB de la región se completará una contracción de 4% entre 2014 y 2019, completando el menor crecimiento para las economías de América Latina y el Caribe en las últimas siete décadas.
Paraguay
Paraguay es parte de un grupo de países (Bolivia, Brasil, Chile, Colombia, Perú y Venezuela), exportadores de materias primas, donde las exportaciones se han contraído y el déficit de la cuenta corriente ha empeorado .
La caída del turismo emisor argentino afecta muy negativamente a algunos destinos regionales como el Uruguay, Chile y el Paraguay, dada la alta afluencia de turistas argentinos a sus sectores turísticos; así, los ingresos por turismo receptor de estos tres países caen un 18% (al segundo trimestre de 2019), un 11% (al tercer trimestre) y un 9% (al segundo trimestre), respectivamente.
El Paraguay enfrentó factores climáticos adversos que afectaron su producción agrícola (soya), la construcción y la generación de energía y redundaron en una contracción de la economía del -2,6% en el primer semestre de 2019, que debería compensarse en la segunda mitad del año.
La tendencia creciente de los niveles de endeudamiento en América Latina se ve impulsada por un grupo de países conformado por Costa Rica, el Ecuador, el Paraguay, Guatemala, la República Dominicana, el Uruguay, el Perú y el Brasil. Estos países mantienen una trayectoria al alza de la deuda sobre el producto.
La economía paraguaya está entre las nueve que vieron depreciar sus monedas en términos reales en este período. En América del Sur además se depreciaron las monedas de Chile, Colombia, el Ecuador y el Uruguay, mientras que en Centroamérica se depreciaron las de El Salvador, Panamá y la República Dominicana.
23 de 33 países de América Latina y el Caribe presentarán una desaceleración de su #crecimientoeconómico durante 2019, mientras que 14 naciones anotarán una expansión de 1% o menos al finalizar el año. Revisa las cifras de la #CEPAL por país. https://bit.ly/2YLl3KD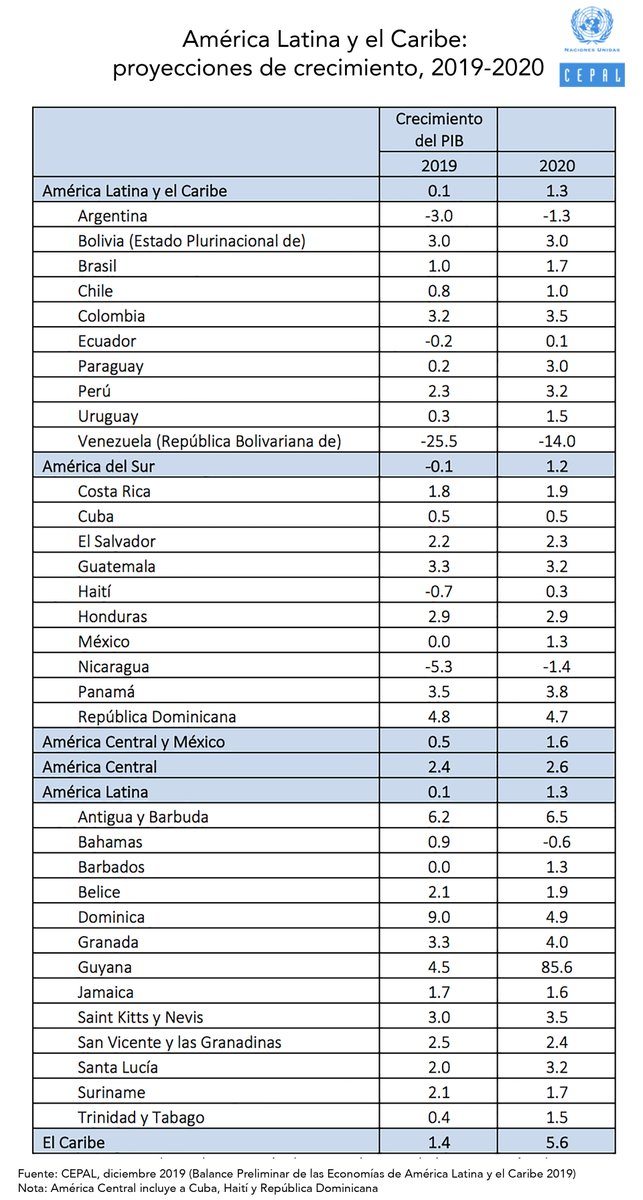 Tibia expansión en 2020
Para el próximo año, la Cepal prevé que las economías de Caribe seguirán liderando el crecimiento, con un avance de 5,6%, mientras que Venezuela -inmersa en una profunda crisis política y económica que parece no tener fin- continuará en cifras negativas, con una contracción esperada del 14%.
Argentina -que estrenó gobierno esta semana con el ascenso del izquierdista Alberto Fernández, sucesor del derechista Mauricio Macri- tampoco escapará a la crisis y se contraerá 1,4%.
En tanto, Brasil firmaría una expansión de 1,7% en 2020 y México crecería 1,3%.
«Ante este escenario, la región no aguanta políticas de ajuste y requiere de políticas para estimular el crecimiento y reducir la desigualdad», alertó Bárcena, en la rueda de prensa en que se reveló el informe económico.
Para la funcionaria las condiciones actuales de la economía latinoamericana obligan a los gobiernos a centrarse en la reactivación de crecimiento y en responder a las «crecientes demandas sociales», que se multiplican en la región y el mundo.
Reactivar la actividad económica con un mayor gasto público en inversión y políticas sociales, es la receta que entrega la Cepal ante las demandas sociales que deben ser respondidas con "esfuerzos redistributivos de corto plazo que deben completarse con aumentos en la provisión y calidad de bienes y servicios públicos", completó el organismo. LN
Desempeño agrícola influirá en el tipo de cambio para el 2020
El comportamiento de monedas histórica­mente estables como el peso chileno está mos­trando signos de debilidad. Dentro de la región, el país con mayores problemas es Argentina, que lleva acumu­lado dentro de los 11 meses del año una devaluación de casi el 60%. Después le sigue el peso uruguayo con un 17%; el peso chileno con un 16%, y Paraguay está dentro de un pelotón con el real y el peso colombiano en torno al 8–9%, menciona Basa Capital. En ese sentido, resalta que el des­empeño agrícola influirá en el tipo de cambio para el 2020.
La moneda más fortalecida de la región (o la menos deva­luada) es el sol peruano con 1%. Paraguay está aguan­tando una coyuntura nega­tiva importante gracias a los fundamentos macroeconó­micos sólidos que tiene el país, enfatiza.
"Si bien en Paraguay tuvi­mos un año complicado y un ingreso bastante menor de divisas, el Banco Central del Paraguay supo mane­jar la situación y mantiene al guaraní en niveles de 6.430–6.480 aproximada­mente. Existe una presión de la región que está pasando por contexto adverso, con todas las monedas deva­luando, por lo cual eviden­temente la competitividad del producto paraguayo se resiente", añade el reporte. Dentro de esa coyuntura, el guaraní viene desenvolvién­dose dentro de los parámetros esperados: una devaluación cercana al 9%, que no tiene un mayor impacto en la infla­ción hasta ahora. "Creemos que esa va a ser la tendencia para la semana que viene, ver el dólar–guaraní fluctuando entre niveles de G. 6.440 y G. 6.480, siempre por debajo de los G. 6.500", explica.
A mitad de febrero se prevé la cosecha de soja, que es uno de los principales rubros de exportación que tiene el país. Los envíos generaron en el 2019 más de mil millones de dóla­res menos, es decir, se tuvo US$ 1.100 millones menos de ingreso en comparación al 2018 en este rubro. Enton­ces, iniciando con un buen año agrícola ya vamos a tener una perspectiva de lo que va a ser el 2020. Todos esperamos que el comportamiento vuelva a nive­les normales, y que no volva­mos a tener una sequía, alega. LN

Portugueses quieren invertir en Hernandarias
Noelia Duarte
Corresponsal CDE
Existe intereses de industriales portugueses de instalarse en la ciudad de Hernandarias y un grupo de empresarios ya estuvo reuniéndose con el intendente Rubén Rojas. Esto se da luego de los contactos realizados por la Agencia de Desarrollo e Integración de la Región de Itaipú (ADIRI) junto a la Cámara de Comercio Paraguayo – Portuguesa.
Justamente, Juan Barboza, titular de Adiri, estuvo por Lisboa y realizó los contactos que ahora se están encaminando. Estuvieron por Hernandarias, Joaquim Almeida, representante de una empresa textil que busca instalarse en la zona industrial de la ciudad y apoyar en la producción de algodón para tener materia prima propia.
Aquaport Group es otro grupo inversor que está realizando el estudio en la localidad esteña y habló con el intendente sobre un plan de provisión de agua potable y alcantarillado para el municipio, con proyección para las demás ciudades principales del Alto Paraná.
"Hemos firmado una carta intención con la empresa para que vengan a explorar la zona, traerán sus técnicos y vamos a ver si logramos avanzar en este plan que es bastante ambicioso", explicó el intendente de Hernandarias.
De concretarse la instalación de esta empresa seremos el primer municipio del país en tener una planta de tratamiento y saneamiento de agua para su distribución a nivel local y las ciudades vecinas.
El representante del grupo de empresarios, Paulo Oliveira, expuso los diferentes servicios en cuanto a soluciones ambientales que traerían desde el mercado portugués y otros países en la gestión de prestación de servicios en soluciones ambientales para un futuro mejor.
También está un grupo del sector de la construcción civil, que ya se instaló en Hernandarias, y que planea construir un edificio de dos torres buscando ser uno de los mayores del país, con apartamentos, oficinas y con vista a la costanera de la capital continental de la energía.
Las ventajas
El jefe comunal hernandariense detalló las ventajas que tienen los inversores para instalarse en ese distrito. Una de ellas es la zona industrial donde se dispone de al menos cinco mil hectáreas para desarrollar sus plantas fabriles y de ahí exportarlas o venderlas internamente, de acuerdo régimen de comercio con que se establezca.
También mencionó a la subestática de la Administración Nacional de Electricidad (Ande), inaugurada el año pasado, con una inversión de US$ 26 millones que cuenta con tramo lineal de 220 mil voltios, además de su interconexión con la subestación de Hernandarias.
Están preparadas para quitar siete líneas de distribución y actualmente funcionan solo dos. Se asegura la provisión de energía permanente en la zona del área industrial de Hernandarias para evitar interrupciones del servicio que puedan afectar la producción. 5dias